Avoiding Burnout While Working from Home During the Pandemic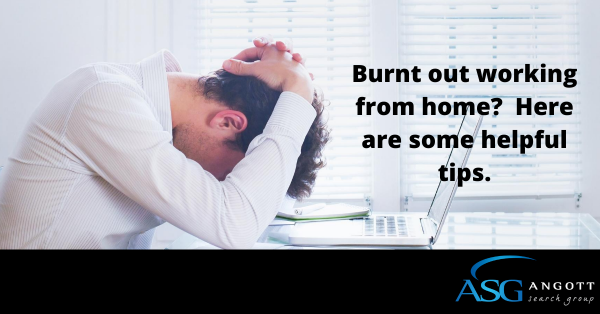 As the COVID-19 pandemic drags on, the lines between work and non-work are blurring. Because the shift to WFH came about so suddenly, employees were forced into this situation without adequate preparation – or any choice in the matter. Most were not equipped to maintain healthy boundaries between their professional and personal lives. Faced with apprehension about the future of their companies, they may feel they have to work long hours to demonstrate their loyalty and prove their worth.
Although working remotely has long been applauded as a benefit to employees, allowing flexibility and saving time and money on commuting, work clothes, lunches and other expenses, it can also result in burnout. What was once a luxury is now a necessity, and many people report increased anxiety about missing a call or not responding immediately to emails being interpreted as not working as hard as if they were in the office.
About 45% of workers said they were burned out, according to a survey of 1,001 U.S. employees by Eagle Hill Consulting, as reported by Bloomberg. Almost half attributed the mental toll to an increased workload, the challenge of juggling personal and professional life, and a lack of communication and support from their employer. Maintaining employee morale has proved difficult, said two-thirds of human resources professionals surveyed by the Society for Human Resource Management earlier this month in the Bloomberg report.
Tips for avoiding burnout include:
Crafting a daily routine with consistent parameters. Create a work schedule for yourself and stick to it as much as you can. Start at the same time every day, and check out around the same time. Eat lunch and take breaks at the same time, and try to keep your work schedule as consistent as you can. Routine is reassuring when you have to create your own schedule. You no longer have the rhythm of a commute and a set lunch time as schedule markers. It's up to you to create a new routine so that you can normalize things as much as possible.
Redefining productivity. Working in an office building, productivity is often gauged by time at the office. WFH can make it harder to define productivity. Focus on the priorities of your job role. Establish goals with your manager to ensure realistic accomplishments and set healthy parameters. Integrate time for professional development and support into your work hours.
Making connection a priority. Reduced social connection in WFH is a definite challenge. Determine how you're going to stay connected with your team, your colleagues and your friends. Use technology to facilitate connections, but don't neglect opportunities to safely gather in parks or other places that allow for social distancing. Another way to stay connected is through broader networks, such as professional organizations. Use social media to initiate or access online connections, such as Facebook professional support groups.
Actions Speak Louder Than Words
Give us a chance. Connect with us to see how we can build a partnership today.