Column: The Midwest Report – Market Focus Indianapolis: A 'Game Changer' For the Circle City?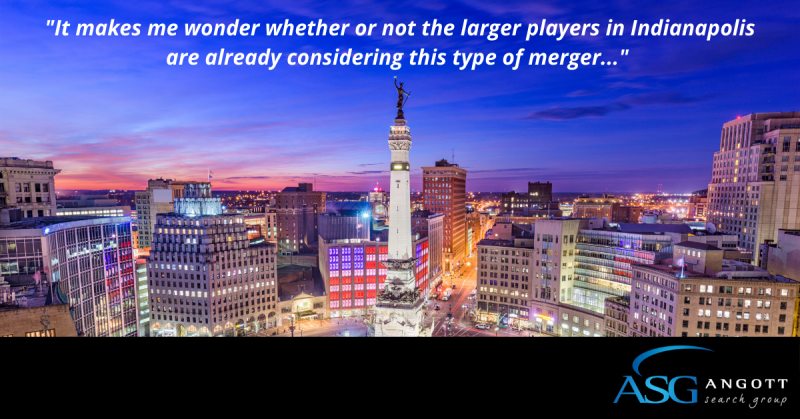 Column: The Midwest Report  – Market Focus Indianapolis: A 'Game Changer' For the Circle City?
"It makes me wonder whether or not the larger players in Indianapolis are already considering this type of merger, or might consider this type of merger," midwest legal recruiter Dan Scott said.
By: Dave Thomas
The past two years have seen record-breaking numbers in terms of law firm mergers, but you wouldn't know that just by looking at the Indianapolis legal market.
That's not to say there hasn't been activity—Dentons announced this month that as part of its U.S. expansion strategy, it's combining with Indianapolis-based Bingham Greenebaum Doll. And Taft Stettinius & Hollister, a Cincinnati-based firm with a major Indianapolis presence, announced in August that it will be merging with Minneapolis-based Briggs and Morgan, creating a 600-person law firm starting Jan. 1.
Still,"We're not seeing the kinds of mergers we saw a few years ago," said Craig Borowski, who recently became managing shareholder of Littler Mendelson's Indianapolis office.
The Circle City was the site of eight law firm acquisitions from 2007 to 2016, putting it on par with other cities in the Midwest—Columbus, Cleveland, Milwaukee and St. Louis—with the exception of Chicago, which saw 25 local firms get snatched up by out-of-towners during that period.
But the merger between Dentons and Bingham Greenebaum might be the start of something different. Before that combination was announced, Dan Scott, a Midwest-based legal recruiter for Angott Search Group, had described the Indy legal market as being "picked over."
But now, Scott said, "It makes me wonder whether or not the larger players in Indianapolis are already considering this type of merger, or might consider this type of merger." He later added that he is still trying "get my head around the ramifications of this new development" at Dentons.
A Stratified Market
Taft entered Indianapolis when it announced it was merging with Sommer Barnard in 2008; it was the first time a local firm had merged with an out-of-town one, said Robert Hicks, a Sommer Barnard partner who is now the partner-in-charge of Taft's Indy office. Three years later, the merger between Indy-based Baker & Daniels and Minneapolis-based Faegre & Benson was announced, creating Faegre Baker Daniels.
These mergers have created a stratified market, Hicks said. The three largest law firms in Indianapolis—Barnes & Thornburg, Faegre Baker Daniels and Ice Miller—each have at least 175 lawyers in the city, according to The National Law Journal's 2019 NLJ 500 ranking of law firms by lawyer head count.
Taft has 118 lawyers in the Circle City. After Taft, no law firms in the city crack the triple-digits.
Hicks said he has noticed a consolidation of the "haves and have-nots."
"Back in the 1980s, you could literally be in a much smaller firm and do just as well economically [as the big firms]," Hicks said. "That's just not true today, and I think [that's the case] in a lot of markets. But Indianapolis today has a very bifurcated market."
Still, not everyone is trying to compete with the four biggest firms in the city.
Hall, Render, Killian, Heath & Lyman is solely focused on health care legal services. The type of clients John Ryan, president and managing partner of the firm, works with are hospitals, health systems and multi-site practice. Because of his firm's niche, it's not feeling the same pressures that consolidation has created for others, he said.
"But on a general legal services nature, I think there's some truth to that statement," Ryan added. Hall is the seventh-largest firm in Indianapolis by headcount.
Ryan noted there are not a lot of national "big box" law firms in Indianapolis (though, it should be noted that Ryan initially spoke with the Mid-Market Report before Dentons announced its entry to the market on Oct. 7). He chalked that up to the city's relatively close proximity to Chicago, which is just a three-hour drive away.
Even Dentons's interest in the market is a bit unique given its global status. In announcing its U.S. expansion, the 10,000-lawyer firm's leaders pointed out that none of the 10 largest full-service firms in the U.S. can boast a presence in all 20 of the country's major cities. The firm said it is looking to provide "seamless service and one-stop shopping" for legal services in those locations, Dentons global CEO Elliott Portnoy said in an interview with The American Lawyer.
As a part of the deal announced last week, Bingham Greenebaum Doll will change its name to Dentons Bingham Greenebaum early next year, but it will retain control over local clients, rates and compensation.
Ryan said that is an important consideration in determining how the combination will affect the Indianapolis market.
"Without a change in the economic paradigm, I doubt it will change much as it relates to items like associate compensation. But we will really need to wait and see," Ryan said.
Tobin McClamroch, managing partner of Bingham Greenebaum, said he doubts rates will rise in Indianapolis as a result of his firm's strategic move, which he referred to as "the best of both worlds."
"The options in the future for law firms [are] to become a boutique firm or to scale up," he said. "We thought that the best option for us was to scale up."
If the other Indianapolis law firms are sweating bullets in light of the Dentons news, they aren't showing it. To varying degrees, Hicks, Humke and Ryan each indicated that BGD's merger with Dentons did not drastically change their assessment of the local market.
"We already have great competition here with Barnes & Thornburg, Ice Miller and Faegre," Hicks wrote in an email. "In my view, Dentons doesn't move the needle on that front."
Humke said he believes this is another example of the Indianapolis legal market becoming more competitive, but "I don't think it by itself dramatically accelerates or impacts that trend."
Scott said Dentons's move into Indianapolis is a "game changer," and questioned whether the giant law firm's so-called "Operation Golden Spike" strategy to scale up its U.S. presence would cause managing partners to wonder whether "it would be in the best interests of their partners and their firms to merge with a larger one."
"If this is successful, it is potentially a portend of things to come, not just in Indianapolis," Scott said. "And I say that very cautiously."
Economically Insulated
Multiple lawyers described Indianapolis as a whole as being insulated from larger swings in the economy. The city is home to three Fortune 500 companies—health insurance provider Anthem, pharmaceutical manufacturer Eli Lilly, and the commercial real estate company known as Simon Property Group. Both Hicks and Borowski commented on the "surprising" technology sector that has sprung up in the Circle City.
Because of this, neither the local legal market nor Indianapolis as a whole experience wide swings in either direction, local lawyers attested. If housing prices fall 20% in California, they would fall only 1% in Indianapolis, Hicks said.
"The pendulum doesn't swing as far in the legal market in Indianapolis, up or down," he added.
Scott contrasted Indianapolis's "diverse market" with Detroit, where everything lives or dies by its auto industry.
"If the auto manufacturers are having a rough year, everybody's having a rough year, including the legal market," said Scott, who is based out of Detroit.
Scott noted that firms in Indianapolis give "nothing away in terms of quality" but charge their work at lower rates.
Despite its stability, Indianapolis has its own set of challenges. Ryan said it's difficult to recruit new associates to Indianapolis because the starting pay is lower than what they would find in Chicago or New York. New associates typically don't come to Indy unless they already have some sort of connection to the area, like family, he added.
But Scott pointed out that that's not a quality unique to Indianapolis.
"That's a feature of every secondary market in this country," Scott said. "You can call somebody in Houston and ask them if they want to go to San Francisco and they won't hang up on you right away."
Scott said law firms in Indianapolis are not hurting for associates. Instead, they're looking for headhunters like him to find partners with a book of business.
Recruitment is also not really an issue for larger firms like Ice Miller, said Steven Humke, the firm's chief managing partner who works out of Indianapolis. Ice Miller has seven offices, including outposts in Chicago, New York and Washington. While attracting people to Indianapolis can be a challenge, Humke said, the firm can use its major-market locations to bring in new associates.
"As long as they're in the firm, we're fine," he said.
Despite the lower pay, local lawyers attested to the quality-of-life benefits Indianapolis has to offer. Some of those benefits can be quantified: Scott said associates in Indianapolis work fewer hours overall than their counterparts in the major markets.
And then there are intangible benefits, like owning a house that has a backyard or being able to see your house in the daytime, he added.
"There's a trade-off to having a lower salary in Indianapolis but being in a city that's vibrant and alive with sports and culture and art. There's a work-life balance here that's attractive to many people here," Borowski said. He added: "I do see the sun."
Actions Speak Louder Than Words
Give us a chance. Connect with us to see how we can build a partnership today.