Employment Summary for July 2020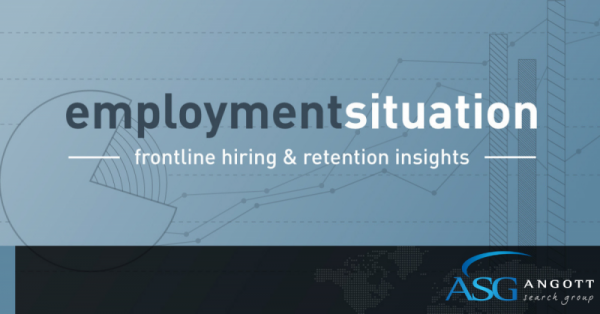 Economist forecasts had anticipated a weaker rebound with an addition of about 1.4 million jobs. Instead the U.S. Bureau of Labor Statistics (BLS) reported stronger recovery associated with continued resumption of economic activity.
The BLS reported total non-farm employment rose by 1.8 million in July, and the number of unemployed persons fell by 1.4 million to 16.3 million. For the first time since the pandemic-driven shutdown of the economy, unemployment for a large segment of the non-farm payroll — adult men — fell below the 10 percent barrier at 9.4 percent.
According to the BLS notable job gains in July occurred in leisure and hospitality, government, retail trade, professional and business services, other services, and health care. The BLS also noted that the number of persons employed part time for economic reasons (sometimes referred to as involuntary part-time workers) declined by 619,000 to 8.4 million in July, reflecting a decline almost 700,000 in the number of people whose hours were cut due to slack work or business conditions.
"What the data continues to tell me is that we're making progress from the pain that was most acute back in March and April. So we continue to have this recovery, but it's uneven," said Michael Arone, chief investment strategist for the U.S. SPDR business at State Street Global Advisors in comments to CNBC. "We still have a lot of wood to chop here, but we're moving in the right direction."
"We have seen a very troubling increase in COVID-19 cases in many states that had reopened for business, but we continue to be cautiously optimistic that the overall U.S. economy has turned a corner, and that the solid job gains announced today will be sustained," said Tony Bedikian, managing director of Citizens Bank in an interview with Fox Business.
Employment in leisure and hospitality increased by 592,000, accounting for about one-third of the gain in total non-farm employment in July. Employment in food services and drinking places rose by 502,000, following gains of 2.9 million in May and June combined. Over the month, employment also rose in amusements, gambling, and recreation (+100,000).
A July job gain in federal government (+27,000) reflected the hiring of temporary workers for the 2020 Census.
In July, retail trade added 258,000 jobs. Employment in the industry is 913,000 lower than in February. In July, nearly half of the job gain in retail trade occurred in clothing and clothing accessories stores (+121,000). By contrast, the component of general merchandise stores that includes warehouse clubs and supercenters lost jobs (-64,000) following robust gains in recent months.
Employment in professional and business services increased in July (+170,000). Most of the July gain occurred in temporary help services (+144,000).
Health care added 126,000 jobs, with employment growth in offices of dentists (+45,000), hospitals (+27,000), offices of physicians (+26,000), and home health care services (+16,000). Job losses continued in nursing and residential care facilities (-28,000).
Employment in transportation and warehousing rose by 38,000 in July, following an increase of 87,000 in June. In July, employment rose in transit and ground passenger transportation (+20,000), air transportation (+16,000), and couriers and messengers (+9,000).
Manufacturing employment increased by 26,000 in July. An employment gain in motor vehicles and parts (+39,000) was partially offset by losses in fabricated metal products (-11,000), machinery (-7,000), and computer and electronic products (-6,000). Manufacturing has added 623,000 jobs over the past 3 months.
Financial activities added 21,000 jobs in July, with most of the gain in real estate and rental and leasing (+15,000).
Actions Speak Louder Than Words
Give us a chance. Connect with us to see how we can build a partnership today.