Human Resources – Hiring Manager – Recruiter AKA Triangulation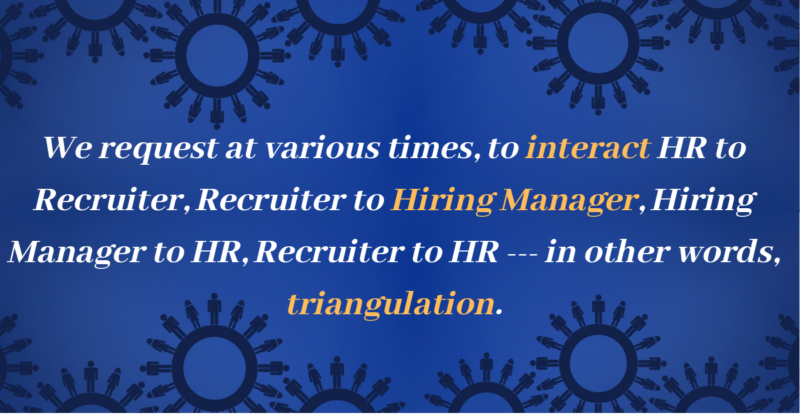 Much has been written (including a few articles by yours truly) about the hiring process —what seems to be effective…what is costly both in time and resources and what might even be considered a prescription for failure. There is an old saying often applied to the search process: "Leave no stone unturned".  We can never be 100% certain about where, when and via what source, the next high impact employee will be found. To be fair, all methods of employee acquisition can be effective, whether the task is performed through an in-house recruiting staff, networking, ad postings, casual referrals and job fairs to name just a few.
If your firm has decided to go "outside" and work with a search firm, you have most likely concluded that this method is most beneficial… based upon the complexity of the search, location, limited internal resources or possibly the need to hire a specialist in a specific product area or career discipline. As mentioned, there are numerous paths to completing a successful hire, but if a decision is reached to engage a search firm — by all means, take full advantage of their services.
It sounds simple enough, yet you would be amazed how various employers approach this scenario. Here's an example:
"All we need is you guys to send resumes –we don't need anything else from you".
Finding a high-impact person is about 20% of the equation. Recruiting a successful, passive candidate and moving him/her through the
various stages of presentation, interview(s), reference checks, negotiations, offer,  acceptance and resignation, to include navigation through the mine field of a counteroffer, takes a bit more than "Just send a resume".
This is why we advise our potential clients; if you have chosen to work with our firm, make a commitment to cooperate and communicate. Obtaining the right person is (should be) very important to the hiring manager — we expect her/his involvement. We also need the day-to- day attention of the HR manager and staff. We request at various times, to interact HR to Recruiter, Recruiter to Hiring Manager, Hiring Manager to HR, Recruiter to HR — in other words, triangulation.  Your business, whether its plastic parts, electronics, wheels, seals or self-driving automobiles, borders on exact science. Recruiting on the other hand is far from it. It's often about availability, competition, compensation and the all-important… timing.
The Summary:  If you want the recruiting  process to be important to us — you'll need to ensure that it's important to you.
Actions Speak Louder Than Words
Give us a chance. Connect with us to see how we can build a partnership today.