Maybe Its Time To Move On?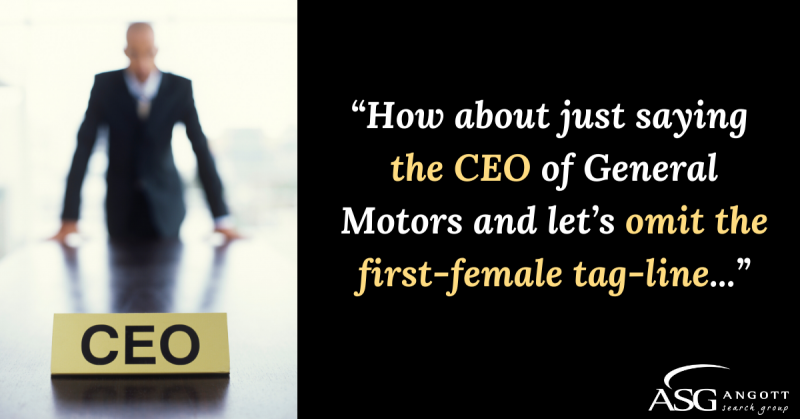 Recently, I was captivated by a television broadcast, live from Arizona featuring the sale of collector quality cars and trucks hosted by the auction team of Barrett-Jackson.
One of the vehicles up for sale was the very first off-the-line 2020 mid-engine Corvette.  Wow, what a machine! The car was donated by General Motors with proceeds of the sale slated for a very worthwhile children's charity.
On hand for the event was General Motors CEO, Mary Barra. When introducing Ms. Barra, one of the auction officials kindly introduced her as "the first female CEO of General Motors." As always, Ms. Barra was very gracious, but I sensed (and this is just a good guess) that she was thinking: "How about just saying the CEO of General Motors and let's omit the first-female tag-line."
It got me to thinking, shouldn't we be past this type of additional labeling? I mean, Mary Barra has been with General Motors since joining the company following college. An engineer by training with advanced degrees in business, she has had a successful, diversified, decade-spanning track record beginning on the factory floor.  Chairman and CEO Barra has the job because she's highly capable and has demonstrated exemplary performance. Gender is not a qualification. Period.
Another example: It amazes me when I see an announcement for a meeting of the Society or Association of (add your own demographic) engineers, or mayors, or CPA's … and the list goes on and on.
I mean, if you're the Mayor, or the CEO or whatever – you're the Mayor, or the CEO. What else do we need to know. Why the delineation?
Actions Speak Louder Than Words
Give us a chance. Connect with us to see how we can build a partnership today.