Resigning, the right way.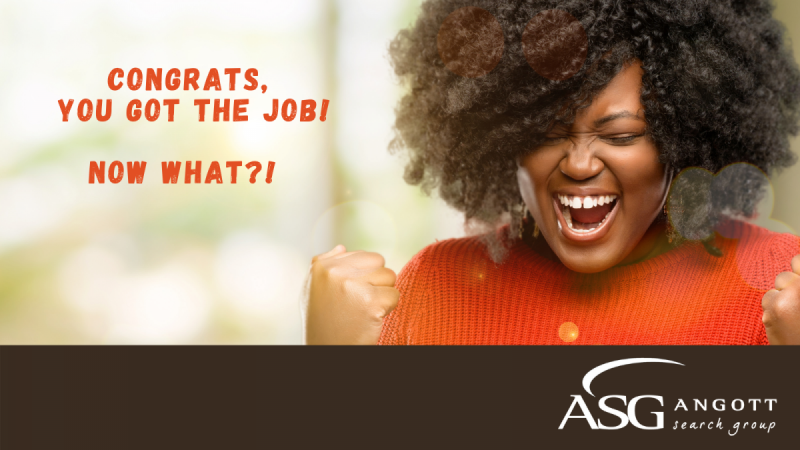 Author:
Pam Rank
(248) 453-0096
pam.rank@asgteam.com
You've gone through several interviews; it came down to three finalists and you were selected! Congrats! But before you communicate the news to your manager, ensure all the details are finalized with your new job. Make sure you have responded to an offer letter, successfully passed all background, credit and drug screen and have scheduled a start date.
Now, comes an uncomfortable conversation you may have with your boss, telling him or her that you are resigning. This can be very difficult for some especially if they have a long tenure with their company. While it can be tempting to leave a job as quickly as possible, it's important to resign professionally. When you schedule the meeting, tell your manager you have something important to discuss, but don't openly say you're quitting. The discussion should take place face-to-face or over a video call if working remote. You might be asking yourself, why should I care about how I resign from my job? There are several reasons why you should care:
It's the right thing to do.
It's likely you may run into one or more of your co-workers or managers in the future. They change jobs/companies too.
You'll need good references if you plan on getting hired for future jobs.
You'll want to craft your resignation letter and keep it very short and simple, professional, and positive. Most of all, don't disclose the salary you're being offered by the other company. The company will most likely keep this document on file, so this isn't a place to vent or let out frustration.
Your manager probably will ask what you're going to be doing in your next opportunity. Don't be surprised if after you resign that you are walked out immediately (due to sensitive material you have access to or due to a particular department you are working in or if you're leaving to work for a competitor). Don't let this ruin your day. Remember, you're in control and this is a chance to leave a great final impression with your manager and even suggest keeping in touch if you feel it's appropriate. The former supervisor may be in a different company you want to work for in the future or you may want to use him or her as a reference down the road. And that's why you want to give a two-week notice. When resigning, please have your conversation with your manager first before you share the news with your co-workers. News travels fast and people love to gossip. If your manager hears about this news, it'll leave the person feeling betrayed and hurt, and will make you look very unprofessional.
During this transition period, you'll want to complete standing projects and work with your manager to determine who should take over any work you won't be able to complete in your notice period.
So, you've worked out one of your two weeks' notice and your manager realizes the company does not want to lose you, so you are presented with a counteroffer. What do you do? Ask yourself why you were looking for a new job in the first place? Was it only about the money? Maybe you were looking for a new challenge, a new corporate culture, or flexibility at work? Accepting a counteroffer prevents you from accomplishing these goals and if it was about the money, where was it six months ago? The bottom line is…if you're going to resign, resign. Don't make a game of it.
Stay connected…exchange contact information with key personnel who you want to stay in touch with. Down the road, they may be helpful for recommendations or to network in your space.
Almost everyone decides to leave a job at some point in their professional careers. By taking the time to prepare ahead of time, crafting your letter of resignation and planning your transition with the company, it can assure a friendly departure and a smooth transition for everyone involved.
Actions Speak Louder Than Words
Give us a chance. Connect with us to see how we can build a partnership today.