Working Remotely Could Be A Win-Win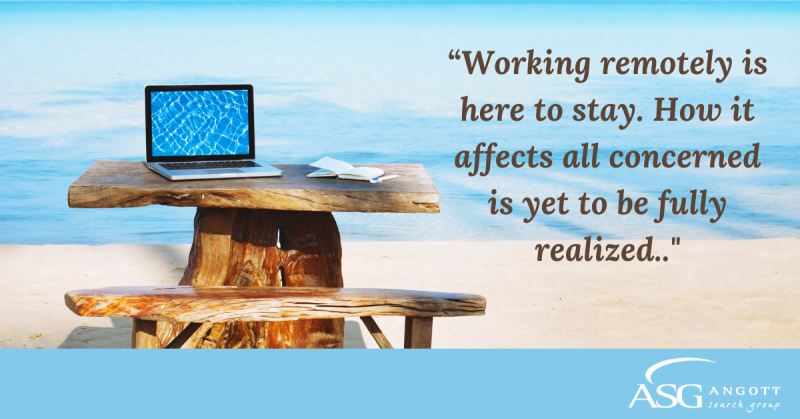 By: Joe Giacomin
(248) 453-0092
jgiacomin@asgteam.com
The technology was already in place pre-pandemic 2020 enabling people to conduct business effectively and efficiently from just about anywhere on the planet – and outer space.  And, for a variety of reasons, quite a few people did work remotely. However, working from home was more a matter of specific need rather than a mainstream routine. Most offices were filled and bustling. People commuted by personal vehicle and in major cities, via public ground and rail transportation.
As horrific and challenging as the Covid debacle was (is), several new positive trends have emerged. Most common is the revelation that in many cases, people may not need to travel to a central office each day to successfully accomplish their work mission. This has created several hiring options for both employees and employers. Job opportunities which may have been geographically impossible in pre-pandemic times are now possible.
It is probably too early to determine what long-term effects remote work will have on the economy. Short term, I believe that businesses that rely on commuters, such as restaurants and service organizations (everything from dry cleaners and shoe repair to specialty retailers) and especially commercial real estate agents, building owners and the people they employ, are feeling the pinch.  As I travel about, the "For Lease" signs are plentiful. As with any major societal shift or change in technology, there are some losers – typically replaced by an equal or greater number of winners. In the case of remote work, the key word here is "options." When recruiting top people, geography was often a major consideration – in many instances it underscored the difference between a candidate obtaining his or her dream job and a company acquiring its next top impact player.
Some changes are already apparent.  Hiring authorities who previously scoffed at the idea of employing a person to work off-site are now receptive to considering this philosophy. Remote work is proving to be effective, not to mention profitable. However, the primary driver, the "elephant in the room" is the limited availability of top talent and the intense competition for the very best.
Working remotely is here to stay. How it affects all concerned is yet to be fully realized. As for job candidates – especially those under age 35, it may be the difference between whether they choose to accept a job offer or move on to another company. I, for one, usually work from my corporate office; however, as I write this column, I am peering out the window of my home office and listening to the cheerful sounds of neighborhood children splashing in their swimming pool.  It's nice to have options.
Actions Speak Louder Than Words
Give us a chance. Connect with us to see how we can build a partnership today.