Bringing great people & great companies together since 1981
Talented, innovative executives and managers who match your company culture are not easy to find.
But we can see them. We can identify them. And we can introduce you to them.
We will pinpoint the leaders who can take your company to the next level.

Building a relationship with a consultant to the point that they are a true partner is very rare. And that is exactly what Angott Search Group has done with me and my organization.
President & CEO of a $1.2 Billion Midwest Bank
For over 40 years, Angott Search Group has successfully helped market-leading companies assess the must-haves and subtle nuances of management job roles, seek and screen ideal candidates who may be looking to explore upward career moves, and accurately match the person with the opportunity.
With first-hand experience in management roles in a variety of industries, our consultants have formed and maintained long-lasting, meaningful relationships with thought leaders throughout the nation and recognize the skills, passion, and creativity needed to help a company thrive.
By leveraging our search and hiring methods for identifying the right candidates, placing them, and retaining them, ASG provides clients with greater peace of mind while simplifying their hiring practices. By choosing candidates carefully, ASG empowers these organizations to tap their true potential.
CEOs, COOs, managing partners, and other high-ranking leaders are in their positions for a reason. They're the best. They have worked hard to become successful and know what it takes to move a company forward. And that's why we have our sights set on them on your behalf.
With ASG as your comprehensive executive search partner and consulting firm, you don't have to weed through endless applications in hopes of finding the gem you're looking for. Whether you need a new CFO for your credit union or a new partner for your law firm, leave the searching to us.
With a presence in 35 states and expertise in many industries, we will look high and low throughout the country to find your next leader.
And we will leave no stone unturned.
Networking in 35 States.
Recruiting from Coast to Coast.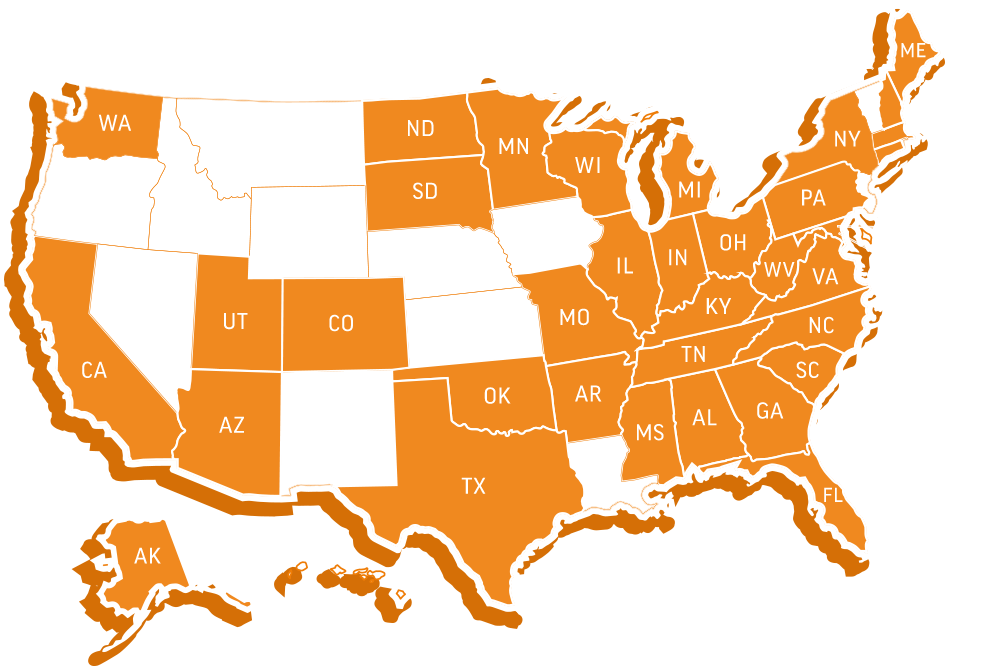 Currently recruiting in 35 states, our executive search consultants have extensive networks of professionals nationwide. No matter where your organization is based or where your candidate is now, we will find your match.
Your Talent

ACCESS PARTNERS
Although ASG's focus is on recruiting and placing executives and managers, our search consultants recruit leaders for a wide array of roles in virtually any industry.
Standing with You at Every Step
We don't stop when we find high-caliber candidates for our clients. We will be there to facilitate and simplify the hiring process from listening to our clients, presenting candidates, helping in the negotiation process, and follow through.
Repeat Business from Clients
Years of Combined Experience
Candidates Placed Full Time
BANKING
Placing C-suite executives and managers in banks has been our specialty since 1981. We have assisted banks throughout the nation with asset sizes ranging from $120 million to $4 billion. With more than 10 experienced recruiters, we can help find the candidates who will elevate and lead your team as well.
Credit Unions
Angott Search Group partners with credit union executives throughout the nation to assist them in building management teams that can see and realize the vision for their organizations. ASG has placed CEOs, Chief Lending Officers, Chief Strategy Officers, and lower-level management in credit unions ranging in asset sizes from $100 million to $5 billion.
Automotive
Our automotive executive recruitment team serves automotive businesses and OEMs in the aerospace, construction, heavy truck, appliance, electric vehicle, industrial markets, and more.