Partnership, Networking & Executive Recruitment
ASG has a respected record of client satisfaction by successfully completing a diverse range of positions for small community banks to large regional banks. The deep relationships we have nurtured and formed over four decades are the founding principle that attest to our success.
We will work with you to assess your talent needs, find and vet candidates that are right for your bank. As a result, you can rest assured that you have best-in-class, talented leaders on our team who can move your bank forward.
Once they become a part of your team, they're typically there for the long haul. In fact, numerous of all individuals who were placed in executive positions through Angott Search Group remained in the position for many years.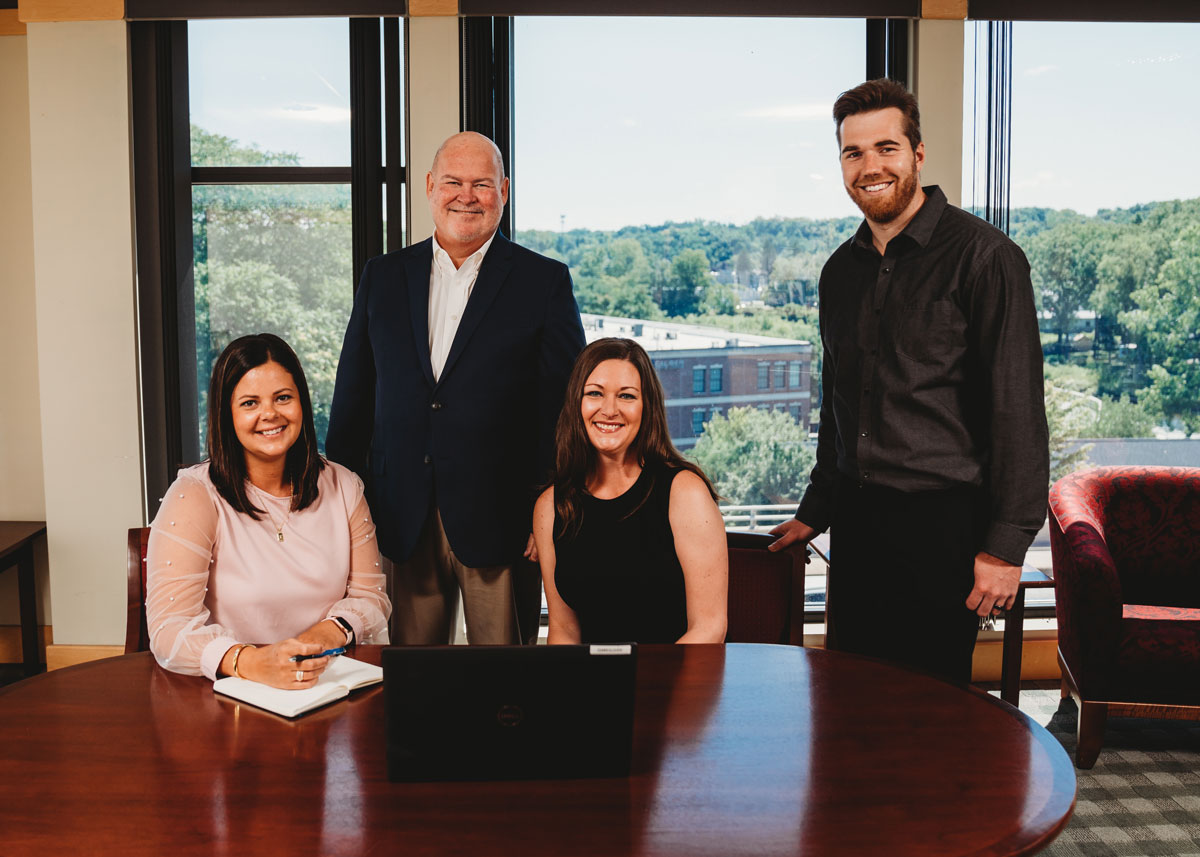 Our extensive network will help you find the right people for your bank, from branch managers to board of directors and everything in between. Our banking recruiters are experienced in a variety of sectors, including:
Executive Level Management
Commercial Banking
Retail Banking
Investment Banking
Information Technology
Human Resources
Wealth Management
Lending
Treasury
Mortgage
Accounting and Finance
Risk
Marketing
Consumer Lending
Trust
eBanking
While they have become highly effective recruiters, our financial services team members remain heavily involved in the financial services industry. They support the interests of the community and national banks throughout the U.S. as active leaders in multiple financial services organizations, including:
Association for Corporate Growth
Community Bankers Association of Ohio
Community Bankers of Michigan
Indiana Bankers Association
Illinois Bankers Association
Michigan Bankers Association
Ohio Bankers League
Risk Management Association
Tennessee Bankers Association
Turnaround Management Association
Banking Executive

SEARCH TEAM
Recently Completed

SEARCHES
Board of Directors – Michigan community bank

Senior Treasury Services Account Manager – $8.3 billion Indiana bank

Credit Officer – $700 million South Dakota bank

Commercial Loan Officer – $3.1 billion Michigan bank

Chief Financial Officer – $250 million Ohio community bank
Internal Auditor – $870 million Minnesota bank
Chief Compliance Officer – $180 million Michigan bank
President & Chief Executive Officer – $850 million Indiana bank
Loan Operations Manager – $780 million Indiana bank
Customer Services Representative – Tennessee financial institution
Vice President of Retail Banking – $8 billion Indiana bank 
Commercial Credit Analyst – $6 billion commercial bank
Trust President – $7.6 billion Midwest bank
Chief Technology Officer – $1 billion commercially focused institution
Vice President, Relationship Manager – Large Midwest regional bank
Senior Relationship Manager – Agricultural Finance and Lending – $10 billion commercial bank
Vice President, Commercial Lending – $1.4 billion financial institution
Financial Reporting Manager – $1.4 billion community bank
I appreciate your efforts. Megan Uphoff is a true professional. I respect the brand that you have created in this market. It's not easy for people to trust a person when confidentiality is at its highest, and people do with Megan.
– Vice President of Commercial Lending for a $1 Billion Midwest Bank
Nick Bell has been a loyal consultant in my professional and executive career. He has consistently maintained contact with me, discussing not only my career aspirations, but also my family's well-being. Nick always demonstrates the care and consideration that define an exceptional executive recruiter and professional partner. He always remains thoughtful and supportive. My recent job placement is another example of how he keeps the credit union, the candidate, and the key players informed.  I am thankful that he entered my career years ago and has remained a dedicated professional. 
– Candidate Experience
I have worked with Mark Angott and his team for over 20 years. His commitment to understanding talent in the banking industry and identifying top candidates that will excel in our environment has been strong. The ASG team has provided searches for senior-level managers, technical positions, and general banking assignments. I will continue to look to the Angott Search Group for our professional searches.
– President & CEO of a $21 Billion Regional Bank
Working with Tom Blackwell was a professional experience. His forensic interview with me proved tremendously beneficial in placing me with the right opportunity, at the right company, and at the right time! Regardless of the many years of my work experience, this process taught me how important it is to have a professional, like Tom, use their invaluable experience and expertise to match my characteristics to a company in order to build a long-term career/relationship.
– Former President & CEO of a $1.1 Billion Kentucky Regional Bank
Megan Uphoff has filled a number of critical roles within our organization over the past year. She demonstrated thoroughness throughout the process, taking the time to understand our organization and our culture. Once armed with this information, she was able to capitalize on her vast network of candidates to provide qualified individuals in short order. As Megan delivered candidates, she did a very nice job of staying in contact using her straightforward communication style.
– President of a Michigan-Based Bank
I have worked with Charlie Tudor for a number of years. He helped me obtain my position as Senior Lender, and I could not be happier. Charlie was a pro at walking me through the interview process and was always very accessible to answer questions. I could tell that he was just as concerned with my needs as he was for his client. I would highly recommend trusting your career to Charlie Tudor and Angott Search Group.
– Vice President & Senior Lender of a $150 Million Ohio Community Bank
I just can't say enough about my experience when working with Megan Uphoff over the last several years. Those dealings have been both as a hiring manager looking for talent, but also as an individual looking for guidance and direction in the market. What stands out is Megan's wealth of knowledge and experience. Those traits are evidenced in her grasp and understanding of roles, people, and the individual organizational cultures in the market. Couple all of that with Megan's straightforward communication style when discussing candidates or opportunities yet thoughtful style when building rapport and there is no doubt why she and ASG excel as the premier executive search firm not to mention the first and only call you'll need to make when arranging talent or looking for what's next.
– Relationship Manager of a $150 Billion National Bank
It's rare to come across a recruiter that is as ridiculously efficient and yet genuinely thoughtful as Kortney South is. From every step of the process, she was one step ahead of the game and was always willing to go to bat for me to make sure I was happy with my new role! I can't recommend and thank Kortney enough for everything she has done for me. She is truly a Gem!
– Candidate Experience
It is very rare that a consultant builds a relationship to the point that they are a true partner. And that is exactly what Tom Blackwell and Angott Search Group have done with me and my former organization. I was amazed at his knowledge and insight into banking and especially his ability to understand how bankers think and make decisions. Tom's caring and thorough approach are refreshing and his ability to maneuver through the different personalities and agendas within the top of the bank to establish the must-haves of the desired candidate is unequaled. Tom Blackwell is a true business partner and his desire to help move our business forward, sometimes without personal gain, is why he and Angott Search Group are the only search group we will use. Tom has had a tireless dedication to our firm as a client and has fulfilled every search for which we have utilized his firm.
– President & CEO of a $1.2 Billion Midwest Bank
I had the pleasure of working with Megan Uphoff in my recent career move. She was responsive, helpful and provided advice throughout the process that empowered me to make the best decision for my career. She took a bigger picture, objective approach that was very refreshing considering past interactions with executive recruiters. I would recommend Megan and her team for any bankers looking for a brighter future.
– Vice President of Commercial Banking Relationships for a $20 Billion Michigan-Based Bank
I highly recommend Kortney South. She consistently exhibits professionalism and enthusiasm in business interactions. Kortney provides valuable insights and is very good at bringing the right people together to make progress to stated goals. Great follow-up, and a pleasure to work with!
– SVP, Loan Operations, $3.3 billion Ohio bank
Charlie helped me secure a position during the period of late 2012 and early 2013. It has been a fulfilling journey working at this establishment, and I appreciate the efforts he made to enable me to finish my career with such professional distinction.
I am grateful for the opportunity to have worked at this institution, and it has been a pleasure to retire with professional dignity. As I retire in 2023, I am reminded of the positive impact Charlie's assistance had not only on me but also on the bank. Thank you, Charlie, once again for all your efforts, and I wish you continued success in your endeavors.
– Candidate Experience
During my recruitment process, Kortney did a wonderful job. The process was complex coordinating across multiple entities and decision makers. Kortney communicated proactively, so I always knew what was going on while also receiving helpful guidance along the way.
– Candidate Experience
Megan was instrumental in finding me a new opportunity and I am very grateful for all of her assistance in my job search. Angott Search Group has a great reputation and I can see why.
– Senior Vice President for a $3.1 billion Michigan bank